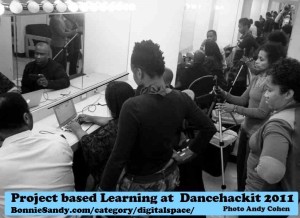 Creative people seldom have time to do the press they need to, too busy creating.  My focus is technology and Creativity  especially in the local realm, and  I seek to test how it can  be leveraged. Since 2003 that has meant a self  funded project, a focus on what  locals have access to and little room for  Press agents. It's easier to scale up.  
In November 2011, we Livedstreamd & Livecast a Collaborative live improve unto the screen at Kumble Theater at long Island University's Main stage and to viewer around the world. We connected Dancers in a room off the theater to and live streamed dancers from Ghana (Africa), St.Lucia (Caribbean) and Vermont (USA) The all danced to a live "realtime" simultcast of music contributed by local musicians. what happened in that room that day left many speechless for a week and redefined how we saw entertainment and theater. I run a self funded projected that helps creative explore technology. as a Creative Industrialist,my scope goes beyond the Social media sphere; I explore using technology to affect the way creatives, learn, explore teach present and ultimately
I brought in two teenagers to tweet the event but no one did. We were all simply engrossed in the magic that unfolded. What we noted was that these dancers were able to make the same connection as though they were on the same stage.  We'd love to explore more and build out the necessary technology and I will definitely encourage Marlies to  present at the next TEDX Broadway
In this case I collaborated with Ms Marlies Yearby the Award nominated Director of the original Broadway Musical "RENT" for what we called Dancehackit. as the tech end of this i was introduced to "the Backend", which is where I saw that technology could really contribute. we used a Posterous9now defunct) Google docs and groups to collaborate but there was so much back-end stuff, which kept taking up so much time and honestly is part of the reason I have NOT revisited this project.
I've had the opportunity to test many theories  of technology and creativity.This type of hands on exploration also needs to be supported. what we discovered is invaluable to the shaping of a final product. We used live stream see some of the highlights here  and a quick overview of our other endeavors below.
Someone shared a post this morning that looked at technology in Theater, I was a bit concerned about the limited scope of  use cited.  See post here  That said i'm definitely encouraging Marlies to present  at the next TedX
DANCEHACKIT™ brought together dancers from the Gambia (West Africa), St.Lucia (Caribbean), Vermont and Brooklyn, NY (USA) Live and in realtime to dance to the same music stream from the Brooklyn NY Mother LaunchPad!  Dancehackit's first presentation was a simultaneous freestyle dance improvisation that  launched exploration of a virtual Live Performance Stage and we hoped would serves as the stepping stone to a digital startup for live entertainment on the world wide web!  Marlies yearby  and I envisioned a platform that would generate new working relationships globally, create jobs, attract funding for projects that inspire creativity and showcase fresh ideas. All while removing the limitations of location by being virtual and globally accessible to everyone. In short this was the beginning of developing a virtual theater where artist and works by both professionals and performers on many levels can be experienced by the viewer without geographic concern. See more here 
With longtime Veteran  actor of stage and screen Victor Arnez teh exploration was much  quiter and more intimate… a former video production instructor at  The local (Brooklyn) public Access Tv  responsible for  training  producers at some of NY's leading  television channels, his involvement meant  exploring the possibility for local theater, turning living room and lofts into "stages" for show, tell and sale. were were able to  look towards equipment  and props and truly  look at the  scalability of  the event.
With the other two experience I came it was the use of marketing expertise that was identified as  needed. In the first case, fully backed nY leg of a tour, $50000 had already been spent in Burlesque to Broadway(tm) marketing with less than 1 month  and only  20 tickets sold I  first did a postmortem on their present strategy even before pulling together any sort of solution. too often it is the INCORRECT deployment  of a campaign that affects it's success in this case there was no effective landing strategy , the wrong message to the wrong  community in the  wrong side of town.  All marketing simply led to dead air. They were active on Your tube, tweeting on Facebook, Had a huge billboard yet few sales. I had to  plug the holes and point all efforts DIRECTLY  to the  sales page… Any thicket sold after  our launch could be attributed to our efforts. Lesson learned… correct business  strategy BEFORE  supercedes technologies magic wand.  I was honest with the  team and promised to  lay  a strong foundation that they themselves could continue through the  end of the run. We brought them in as a Parner  at  www.internetweekny (free)  made the download of the  music available  added a dinner special with local restaurants. see more here 
The final case was a local off Broadway production. This Time I was approached about 3-6 weeks before the event  You need six months to fully  plan and execute a strong social media strategy. here technology was used to make up for lack… The site (A responsive wordpress theme, became a digital playbill  and was accessible by mobile. They set up a FB group vs a page which allowed cast to  share and become active in spread the word and building support. We used Eventbrite as a digital  ticketing system. The did a trailer ad on Youtube and took to tweeting.  Small productions have a manpower challenge and so Social media may not be a natural fit unless it's on a volunteer basis as EVERYONE was too involved with production to tweet.
I've discussed streaming  and on demand video for preparation, performance and archiving and merchandising. In  most cases it is "CULTURE", what's traditional in that niche that is a challenge. These as well as revenue models need to be written into contracts at the time cast is signed on  The language of many of the current social media sites also make IP conscious creative  uncomfortable.
The question I asked Marlies and other creative.. what  would you  do with technology if you  could
[recaptcha_form]
Comments
comments