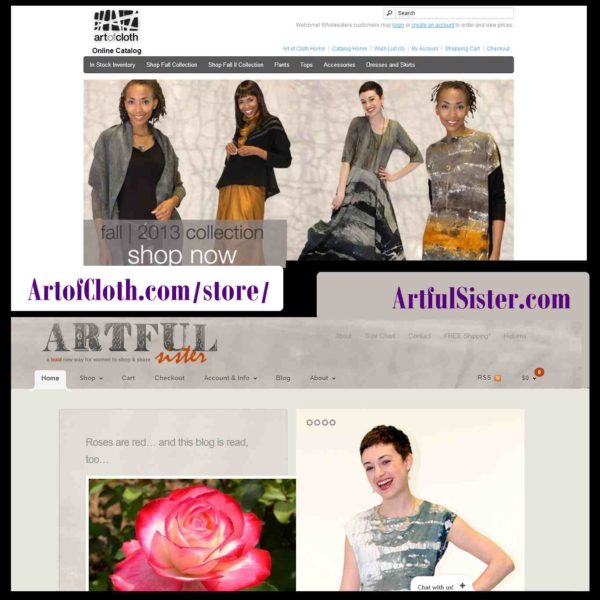 What's preventing consumers from finding  product despite the  increase in the number of Indie  Designers.  Recently a store owner  reached out asking me to recommend  a few designers  to supply  a new boutique in the moderate priced range.I'm always asked why can't  we find locally made garments from  both consumers and boutique owners.  Yes size style and color is a problem, but those are the easy challenges. My question whose's really making a profit. In the last few years I've been concentrating more on adapting technology to the Business of fashion.
They needed to have linesheets , Look-books  a website. simple Standard for anyone serious about their business! I  always insist on High  quality product. I have a huge list of designers and so was shocked that  many were sending me to  Etsy.  Seriously….  Would you want to be browsing info  on your suppliers that their consumers are using. Will you find the info you need on such a site.  So why would  or should they settle to learning of your interest on a consumer oriented site.
It shows me that you are not  committed to  your business. You  are not prepared to take responsibility.
When  they  do  have linesheet or lookbooks… they have no  product! No Stock. They cannot say  when they will have product and /or stock.
In another instance actually  another couple of  instances designer simply  did not show.  When i'm actively  working  and promoting  I  always have a backup and never use a no show again.  Then there are those who are persistently late. Time is money and simply to  not show is unprofessional. Cutting your time  too close to arrival is not professional…
Year after  year  I see independent designers struggling, few have their own website. many are  not  showing  a financial success! they do not believe that it is possible to earn over  six figures as an independent business.  It's hard to  get them to acknowledge their challenges  and so  extremely  difficult to get or initialize change. Offline there are problems…
I will not  recommend a designer  till I am  certain they are professional! On the other hand I am willing to work with them  when they ask. So I went looking  for Art of Cloth a success story I had read in 2011. Then I  came about their site.  Well two sites, They get it  right! They have  a wholesale site and a retail option. Their prices are discreetly  available to registered buyers only, and they manage to create an online catalog that serves as a lookbook. If anything I'd improve their product descriptions! www.Artofcloth.com  or www.artfulsisters.com 
I was impressed enough to add a new category Market Watch.  A sort  of Barometer as to where our business is at and what businesses are doing!
I also remembered a 2011 article that chronicled how a Art of Cloth a US company came back from a severe loss to over  a million in sales in just  3 years!  Proving that an Offline company can  make a turnaround.
Strategy- Edit you  collection to your target  audience
She first retained a New York City-based fashion consultant to help her keep abreast of the ever-changing trends in the fashion world
Strategy  Be honest and make a clear assessment on what or who  goes or stays
… to cut expenses without affecting sales efforts. So she continued to attend several design shows in major U.S. cities to gain exposure to prospective buyers, spending $1,000 to $4,000 to attend each one.
Strategy  Get a sales  Rep.- Success in business is about  selling  your line and you need help.
using national sales reps — and now has six — which she pays a 12% sales commission.
Strategy Pricing as a strategy… It's not just enough to point to cost, it is your mandate to "bring your designs in" at a competivie rate
… cut prices on several higher-priced items by 15% to 30% because reps complained that customers had become more price-sensitive in the rough economy. But there was another lesson to learn.
Strategy- experiment  and develop innovative production  methods
Lowering prices actually forced her to find ways to cut manufacturing costs and improve efficiency. For instance, she figured out how to speed up by dyeing process by dyeing larger batches of the same color at once.
Read more on this article : http://www.entrepreneur.com/article/219579#ixzz2Y6Gnl9yB
What  is 'online success". Well not many "know"!  This "business" is relatively new to most and our Brooklyn based project is one of the few that has experience built over the last 10 years! Then again what is offline success!  You've got your skill, you even have a great product service or merchandise and you've decided to join the world of the Independent Creative… in a digital age! Local, you now have the ability to sell Globally, But  you're not quite sure how to  add the technology! So how do you go about making a success of this! What exactly are you to consider and who will guide you.
Developing  strategies that work for you is not just a thought  process . You need to commit to success that means defining success! You need to execute, test and evaluate your ideas.
Be inspired by those achieving success.
Comments
comments